Skip to Content
Top Electrical Remodeling Tips for Your Clinton Township Home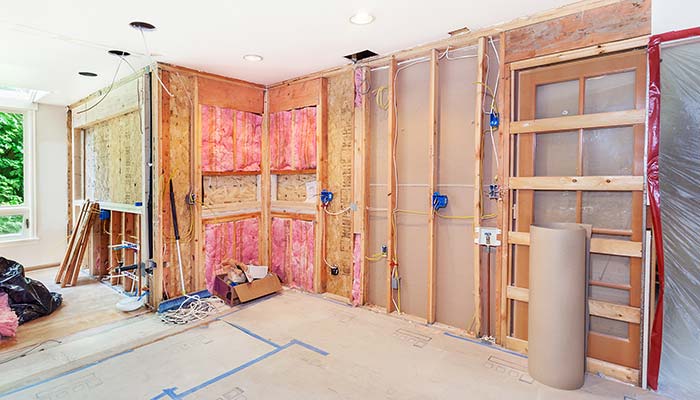 Home renovations bring about all sorts of stresses – don't let a lack of electrical remodeling tips be one of them! While renovations bring excitement into your life, the process opens the door for an assortment of issues to come forward, especially with your electricity.
Hoover Electrical, Plumbing, Heating & Cooling in Clinton Township, Michigan, knows how crazy home renovations are, so we gathered the best electrical remodeling tips for you!
Home Renovations and Electrical Wiring
When you renovate your home, you often stumble across issues you never knew you had. Electrical problems usually fall into this category. Say you decide to open up your kitchen. You knock down a wall only to find that your electrical wiring is aluminum – a safety hazard – instead of copper.
You need to rewire the entire house to keep the safety standard high. Aluminum wiring loosens more than copper over time, which causes fires at the outlet.
But don't worry! Hoover electricians know when aluminum wiring needs to be replaced. Just remember – while it is possible to repair aluminum wiring, replacement is the best option to remove safety hazards.
This marks the first of our electrical remodeling tips: keep an electrician handy! Experienced electricians know the difference between a complete replacement and a quick update. Save yourself time and money – have a Hoover electrician at the ready!
When You Need New Outlets
Now that an electrician surveyed your wiring situation, you are able to move on with your renovation. Your new furniture has arrived and you begin the interior design phase of the project. All of a sudden, you realize your new lamp has no place to plug in.
Luckily, you have your Hoover electrician to give you electrical remodeling tips! Use the wiring system you already have in place to create a new outlet. Look on the other side of the wall where you want your lamp to be, then find an outlet on or near that wall.
After that, have your electrician use an outlet on the other side of the wall to create a new one in your desired wall through the outlet box.
How to Move a Ceiling Fixture
Got a lamp or ceiling fan you'd like to move to a different area on the ceiling? Apply the same logic as with creating new outlets, but think about the attic instead. More often than not, your electrician simply needs to remove staples that hold your electrical cables in place to give you more cable. This means you are able to move your ceiling fixture over a few inches – or even feet – if needed.
Also, Hoover specializes in lighting and ceiling fan installation if you decide to add more fixtures to your home. Installing or moving the kitchen island? We can install task and under cabinet lighting. Another fantastic benefit of having a Hoover electrician at the scene of your renovation!
Our Electrical Remodeling Tips
Now that you know some scenarios for electrical remodeling, here is our list of electrical remodeling tips.
Have an electrician at the ready. You never know when you need to rewire or perform a simple update, so have an electrician's number handy.
Use your system. Find ways to incorporate your electrical system into your renovations. It makes the process faster and easier!
Look for easy fixes. In general, you want to keep electrical remodels as simple as possible. Why add cables when you can wiggle an extra foot out of the one you already have?
Contact Us for More Electrical Remodeling Tips & Electrical Services
You don't have to stress about your electrical remodeling with Hoover around. We want your renovations to end happily! That's why we put together these electrical remodeling tips. You deserve a stress-free renovation, and we want to give it to you. Give Hoover in Clinton Township a call today for a free estimate.