Skip to Content
We Offer Comprehensive Home Heating Services in Clinton Township, MI
When the temperatures start to drop in late autumn, you need a reliable furnace or home heating system to keep your family warm. Hoover Electric, Plumbing, Heating & Cooling can help you prepare for Jack Frost's arrival with furnace maintenance services, repairs, or installation in Clinton Township, MI and the surrounding area. We have been serving the region for more than 40 years and have developed a reputation for delivering extraordinary results with exceptional customer service. We use state-of-the-art equipment and remain up to date with the latest industry advancements and innovations to ensure you receive the best services possible. Whether you want a tune-up in preparation for a cold spell or need more extensive repairs, call us today to learn how we can assist.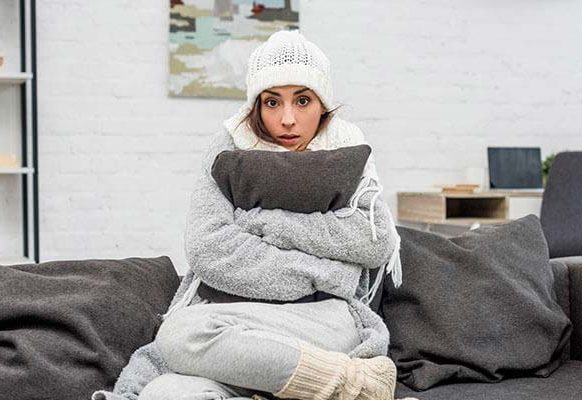 Factors to Consider Regarding Furnace Repairs
You cannot always predict when the furnace that heats your home will develop an issue. But there are factors to consider that may warn you about a pending problem. Factors that may indicate you need furnace services include:
An inaccurate thermostat
Strange noises coming from your system
Unexplained increase in your energy bills
A yellow burner flame instead of blue
Your furnace is more than 15 years old
If any of the above are true for your furnace, you should enlist the services of Hoover Electric, Plumbing, Heating & Cooling. All our technicians are fully licensed and have undergone extensive training to offer the various repair services you need.
When You Should Request Furnace Repair Services
Among our specialties are high-quality furnace repair services in Troy, MI and the surrounding area. We have extensive experience resolving all types of issues related to home heating systems. Regardless of how old your furnace is, whether it uses gas or electricity, or its brand, our team of experts can restore it to working order so that you can remain warm and cozy inside your home. Call us for repairs if you experience:
Uneven heating throughout your house
Unusually high energy bills
A strange noise coming from your furnace
Worsening air quality
Needing to adjust the thermostat higher and higher
A system that cycles frequently
A faulty pilot light
Not enough heat
We Perform Residential Heater Maintenance Services
You take your vehicle to the mechanic for a yearly inspection and visit a doctor for an annual physical. Your residential heating system should be no different. We offer comprehensive maintenance services to ensure your furnace will last throughout the winter. Our professionals can quickly identify any troublesome issues that may lead to problems in the future. We recommend furnace maintenance before the winter season begins. Early action allows us to make any necessary repairs before your heater becomes vital to your comfort. Benefits of heater maintenance include:
Effective home heating
Lower energy and fuel costs
A longer-lasting system
Less frequent breakdowns
Improved air quality
Reduced risk of fire or safety hazards
Home Heater Installation Services in Clinton Township, MI
If your furnace or heating system has outlived its utility, Hoover Electric, Plumbing, Heating & Cooling can install a new furnace that will guarantee your comfort for years to come. We will help you find the ideal heating system to fit your family's needs. Modern technology has made replacement furnaces more efficient than ever before, and we want you to reap the benefits of whole-home heat and low energy expenses. We offer heat pumps, mini-split heat pumps, forced air systems, electric heat, ductless systems, and radiant heat systems. A factory-trained installer will come to your home in Southeast Michigan to ensure it is set up correctly. We offer free estimates before every installation.
Contact Hoover for Residential Heating Services Today
Maintaining your comfort through the cold winter nights in Clinton Township, MI is a must. Hoover Electric, Plumbing, Heating & Cooling can help. We offer comprehensive residential heating and furnace services throughout the area. Our experienced team is ready to complete maintenance, repairs, or installations to keep you warm. Contact us today to schedule an appointment.
All the Services You Need Under One Roof, When You Want It Done Right