Skip to Content
Where to Use GFCI Outlets for Clinton Township Residents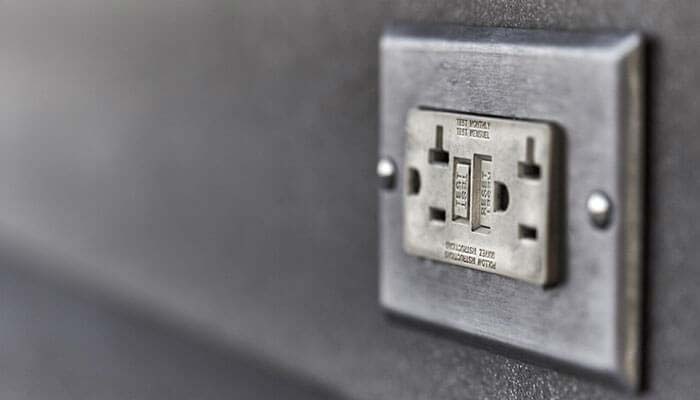 GFCI outlets, or Ground Fault Circuit Interrupters, are an important electrical safety device. GFCI outlets prevent shocks from faulty electrical devices and system components. Unfortunately, not all homes are equipped with them.
Learn about this important safety technology and why you should install GFCIs in your Clinton Township home. Why? Because it's important for your safety, reduces the risk of fire and the absence could prevent the sale of your house someday. Our licensed electricians are ready to help with this and other electrical services.
Electrical History
In 1961, Charles Dalziel invented GFCI outlets. Dalziel, a professor of electrical engineering, studied how electricity affected humans and animals. He pioneered understanding the effects of electric shock on the human body. Because of his research, GFCIs are credited for a reduction in electrocutions and accidental shocks, as well as electrical burns and injuries.
Over the years, GFCI requirements increased with code revisions. In the 1970s, the first GFCIs were required in swimming pool areas. Now, they are required throughout the home in different areas near water.
You're probably familiar with GFCIs as the kind with the test and reset buttons. There are also GFCI breakers you can install at the home's electrical panel. A GFCI breaker provides protection to all the outlets on the circuit controlled by the GFCI breaker.
Why Use GFCI Outlets
The presence of moisture in an area increases the risk of an electric shock to a person. GFCIs monitor the electric current as it flows through a circuit. The GFCI outlet quickly cuts power to the circuit even if it detects a small fluctuation in the return current. GFCIs work extremely fast. They can disconnect power faster than you can blink your eyes.
Where to Use GFCI Outlets
The National Electric Code requires moisture-prone areas throughout the home to have GFCIs. Local building codes may also mandate GFCI outlets in certain areas, as well as their use in commercial buildings.
Areas where GFCIs are common include:
Bathrooms
Kitchens
Utility Rooms
Laundry rooms
Garages
Unfinished basements
Wet bars
Sink areas
Exterior outlets and
Crawl spaces.
How To Test GFCI Outlets
GFCI outlets require regular tests to ensure they continue to work properly. The manufacturer provides recommendations for how often a GFCI outlet or breaker should be tested. In general, test after installation, after any power failure, and once per month on an ongoing basis.
To test GFCI outlets, follow the manufacturer's instructions. If you don't have these instructions available, follow this process:
Plug a light into the outlet you want to test and turn it on.
Press the outlet test button. The light should turn off.
Press the outlet reset button. The light should come back on.
If the light does not go out when you press the GFCI test button, then the outlet has ceased to work correctly. It's also possible it was installed incorrectly. If the light does not come back on when you press the reset button, then you should replace the GFCI outlet.
In Conclusion – GFCI Outlets are Necessary for Your Safety In Moisture-Prone Areas
Improve the safety of your Clinton Township home with the installation of GFCIs throughout. Hoover Electric, Plumbing, Heating & Cooling's licensed electricians provide safe installation of GFCI outlets and breakers to protect your family against electric shocks.
Finishing a basement? Installing an outdoor kitchen or upgrading a master bath? We can help! So contact us today to learn more and schedule installation!