Skip to Content
Can I Install a Tankless Water Heater in a Bathroom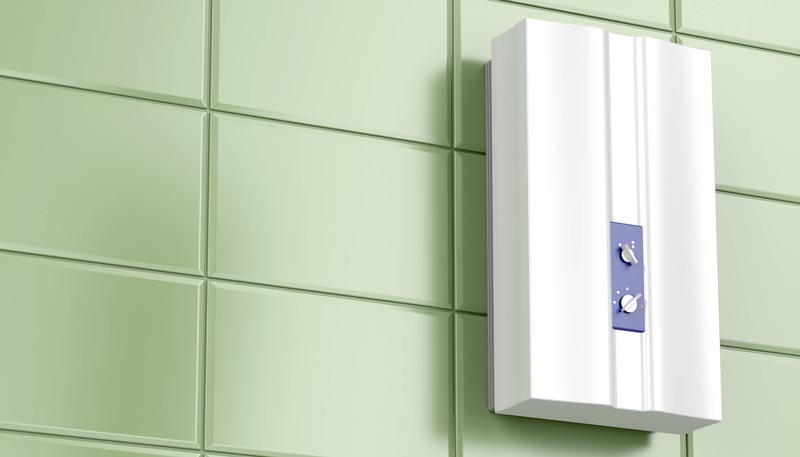 A tankless water heater in a bathroom is a popular option amongst today's homeowners.  They have a small profile and efficient operation. We will review the benefits of tankless water heaters, installation tips for a tankless water heater in a bathroom, and why this might be a great upgrade for your Michigan home.
What is a Tankless Water Heater?
A tankless water heater, also known as an on-demand water heater, heats water instantly as it flows through the machine. There is no boiler or tank to keep the water hot, so it is heated as needed by your faucet or appliance.
A tankless water heater has flow sensors activated when water flows through them. Water is then heated by a copper heat exchanger fueled by gas or electricity, depending on your system. The heated water goes directly to your water supply and is not stored. Traditional tank water heaters store the water in a tank or boiler until it is needed.
Tankless water heaters can be installed anywhere inside your home. You can even have a tankless water heater in a bathroom! Some families with larger homes choose to install two, one for each floor, for example. Because of their small size, they fit in closets, cabinets, pantries or laundry rooms.
Benefits of a Tankless Water Heater in a Bathroom
Tankless water heaters have many benefits such as:
Lower cost to operate – they do not have to keep water warm after it is heated. Therefore, they use less electricity and are cheaper to use.
Longer lifespan – they have a longer lifespan than a traditional boiler style water heater. Sometimes up to twice the lifespan. This means you could pay for two tank heaters in the same time a single tankless model lasts.
Smaller footprint – they are much smaller than a traditional unit so installation is more flexible.
On-demand hot water –if you often 'run out' of hot water at your house, a tankless system might be perfect for you. If you "snowbird," it's also a great option. Don't pay to heat a tank full of water while away or worry about a tank water heater springing a leak. Water damage from an old tank water heater happens a lot and is often expensive to restore.
Where to Install: Tankless Water Heater at Point of Use
When deciding on an installation location for your tankless water heater, you may have more options than if you are switching from a boiler. Strategically planning the location of your tankless water heater maximizes its flow and water temperatures.
Tankless water heaters must be installed indoors. Beyond that restriction, install it where it makes the best sense for your family. The installation cost is usually cheapest if you install it near the old hookups. This may be near the bathroom, but maybe not.
Consider a tankless water heater in a bathroom, where you use a great deal of your hot water. When you choose a tankless water heater in a bathroom, be sure to consider any maintenance and whether there is a clearance for this work to be done. As long as these needs are met, it is convenient for tankless water heating to take place in the bathroom.
Next Steps for Tankless Water Heater Installation
Whether you want to install a tankless water heater in a new construction home, upgrade an old system, or would simply like to learn more, a reputable plumber is your best resource.
Your plumber analyzes your family's needs and suggests a system and location best for your hot water demand. Always look for a company that offers free estimates, and is licensed and insured.
Hoover is Your Tankless Water Heater Installation Expert
When you are ready to learn more about installing a tankless water heater in a bathroom, give Hoover a call! We have provided outstanding plumbing services since 1980 and have plenty of experience with all types of water heaters.
Hoover is committed to our customers and guarantees prompt, courteous, and accurate work every time. Call Hoover today to see the difference our team makes for you in your Clinton Township home!