Skip to Content
Fight Seasonal Allergies HVAC Solutions in Warren, MI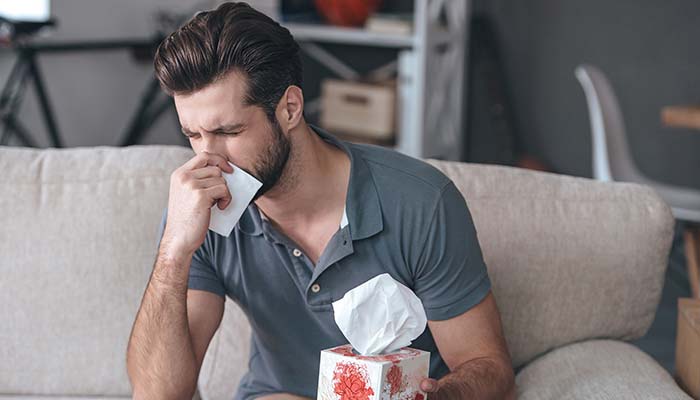 Sneezing, itching, nasal congestion, headaches – many people suffer these symptoms of seasonal allergies in the spring and fall. You may think you or your family can avoid them by remaining indoors, but sometimes air quality indoors is worse than it is outside.
If you're striving for a cleaner, healthier environment inside your Warren, MI, home, we can help! Maintain your HVAC system and invest in the right products to improve your home's air quality to decrease triggers for asthma and seasonal allergies.
Try these ideas to ensure safe, allergen-free indoor air in your home.
Preventative Maintenance
When a professional maintain your HVAC system regularly, it makes your home feel more comfortable, it helps reduce the symptoms of seasonal allergies as well. Especially in the spring, a thorough HVAC maintenance routine goes a long way toward eliminating allergens already in your air and keeps new allergens away.
One example is our VIP program. It offers yearly HVAC inspections and priority scheduling, plus regular tune-ups ensure your HVAC system is in clean, working order.
Clean and Replace Your Air Filters
Dust and debris accumulate in your HVAC system's air filters over the winter, which leads to lowered indoor air quality in your home and HVAC unit energy efficiency.
For these reasons, manufacturers recommend monthly filter checks and filter replacement at least every three months. In fact, the U.S. Department of Energy estimates replacing a dirty air filter can reduce your air conditioner's energy consumption by as much as 15 percent.
Clean or Seal Your Air Ducts
To improve your home's indoor air quality further, our expert HVAC technicians are available to clean your air ducts. This removes the dirt, debris, and sometimes mold lodged in the ductwork in your house.
Experts recommend having this service performed every three to five years. Duct cleaning is also recommended following a renovation or new construction. We also recommend it prior to moving into a new home.
Products to Improve Indoor Air Quality & Reduce Seasonal Allergies
In addition to offering preventative maintenance services and service plans to keep your home allergen-free, Hoover also installs these and other products to help you fight seasonal allergies:
Whole-House Humidifiers and Dehumidifiers
Breathing air with the right amount of humidity is one way to relieve the discomfort with seasonal allergies. Whole-house dehumidifiers are ideal if your goal is to remove extra moisture from the air, make your home feel cooler in the summer, and lower the chances of mold growth and dust mites.
Are you troubled by stale air, static electricity, dry sinuses, and recurring viral or bacterial illnesses each winter? If so, consider a whole-home humidifier. A whole-house humidifier regulates the amount of moisture in the air, reducing these issues.
Air Filtration Systems with UV Germicidal Lights
Ultraviolet light has sterilized surfaces for more than a century. Use it to fight seasonal allergies in your home by pairing it with an air cleaner or air filtration system. The UV lights sterilize the biological allergen particles while the air cleaner or filter eliminates them.
HEPA Filters
While HVAC filters keep dust out of equipment and prevent damage, to fight seasonal allergies, you need special air filters designed to trap microscopic particles and keep your air cleaner. Called high energy particulate, or HEPA, filters, the best ones trap more than 99 percent of the pollen, dust, and smoke particles in your home's air.
Be sure to consult with an HVAC pro from Hoover before purchasing pricey air filters in a big box store. In some cases, these filters are incompatible with a home's existing furnace, air conditioner, or other equipment.
Heavy filters might strain your HVAC system and create new problems. It's best to get a recommendation based on your current system and specific situation.
We're Your Indoor Air Quality & Seasonal Allergies Specialists in Warren, MI
Whether it's preventative maintenance, air duct cleaning, or the installation of IAQ products to improve your home's indoor air quality, the experienced pros at Hoover Electric, Plumbing, Heating & Cooling help you choose the right option for your Warren, Michigan, home. Contact us to learn more about our HVAC solutions and fight back against seasonal allergies.