Skip to Content
Why Is the Emergency AC Repair Cost So Expensive?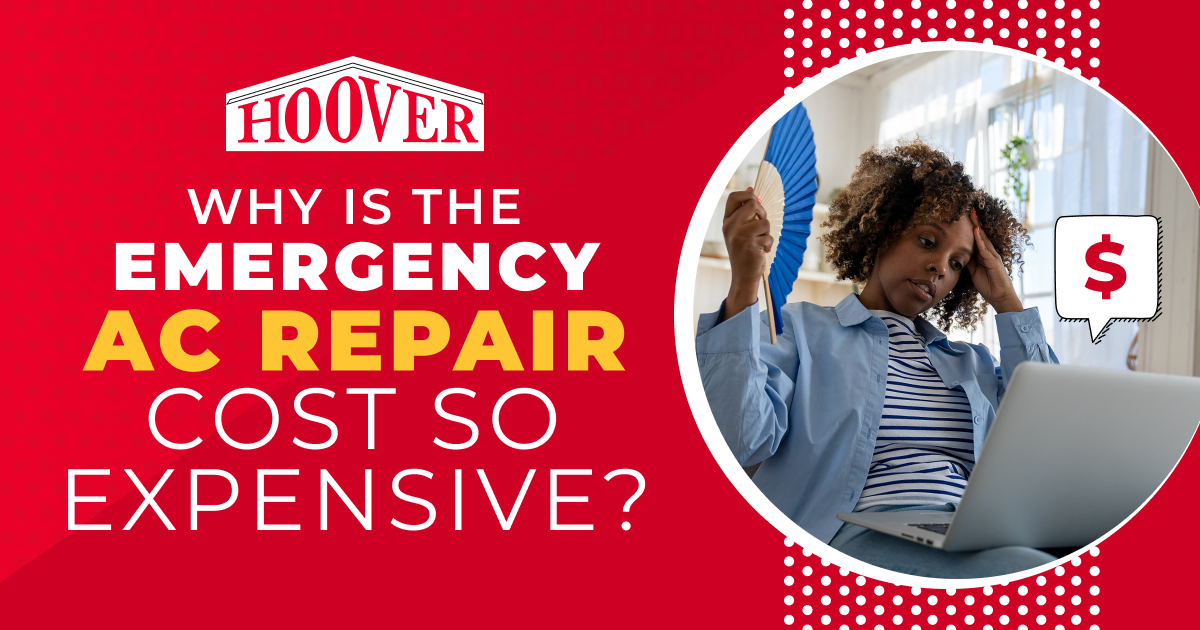 When a client calls with an urgent problem, they often ask, "Why is the emergency AC repair cost so expensive?" We admit it's not cheap. The national average cost of an emergency AC repair is $369, as of 2023, and can range up to $600, $700, or higher depending on the problem. Major repairs and fixing high-end brands can run into the thousands.1 
But rather than focus on the cost of any given repair, we're going to look at why having a professional address an AC emergency is so costly. There are many reasons. Here's a look at a few of them:
Cost of Emergency Air Conditioning Repair
Older Units Are More Likely to Break Down
A sudden breakdown tends to involve an older model, one that's in poor condition, or a unit that's been poorly maintained. These are inherently more expensive to fix. And finding replacement parts for a discontinued model can be difficult and costly. Also, you'll need an HVAC company with the right experience. Hence the higher cost of service (as opposed to hiring inexperienced contractors and technicians).
Air Conditioner Parts Are Expensive
Most AC parts are expensive. Unless you just need an air filter, blower motor, capacitor, fuse, relay, or other simple part replaced, you're going to spend a lot more to repair or replace, for example, a coil, condenser, or compressor. Fan motors aren't cheap, either. Neither is capturing a Freon leak or fixing one. Thermostats range greatly in price since they vary in complexity and functionality.
HVAC Contractors Cover the Cost of Licensing and Certification
These give a technician the knowledge and skills to provide successful AC repairs. But obtaining a license and certification is expensive. It's a business expense, so it must be factored into the emergency air conditioning repair cost. And it's not just a one-time expenditure. Continuing education and training is necessary because equipment and features are constantly being updated.
Repair Companies Are Available Around the Clock
Operating 24/7 comes at a cost. A technician charges extra to always be on call. No one loves rushing to a job overnight, on a holiday, or Sunday morning. So there's a trade-off. You get great service but have to pay extra for it.
Cost of Labor 
Labor accounts for a large portion of the emergency AC repair cost. It's calculated based on the technician's travel expenses, time on the job, and effort to diagnose a malfunctioning air conditioner. A contractor may charge a basic service fee of between $75 and $200 plus up to $150 per hour (some companies charge up to $250 per hour in an emergency).1 Other contractors may set the hourly rate based on the size and scope of the job.
Saving on Emergency AC Repairs: The Air Conditioner Warranty
Some AC repairs cost thousands of dollars. However, even if you need a new compressor, a warranty can cover the cost of repair or replacement. But that doesn't mean you won't pay anything. Every warranty has different terms. 
Depending on the agreement, you may be required to pay a specified amount. And depending on the warranty, it may or may not cover labor or emergency fees. It can also require meeting certain conditions, like showing proof of professional maintenance.
Call Hoover for an
Emergency AC Repair Cost
Estimate
Hoover is available 24/7 to address AC emergencies in Southeast Michigan. Each visit includes a free estimate of the cost of emergency AC repair, and special discounts and financing options are available. You can pay over time whether your AC leaks, makes loud noises, or turns on and off too frequently. Our licensed and experienced technicians can fix any problem, big or small. 
Call (586) 701-6127 to schedule service and receive your free estimate.