Skip to Content
Must-Have Certifications for Air Conditioning Repair Companies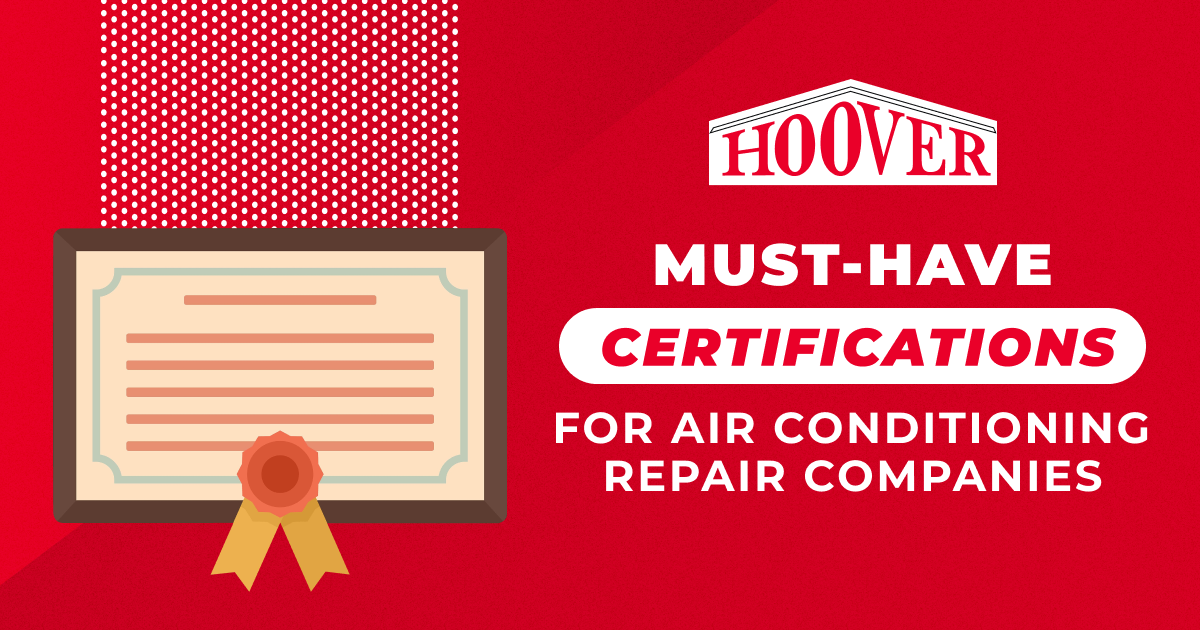 Air conditioning repair companies often have persuasive advertising and representatives who sound convincing. A solid reputation, strong recommendations, and positive reviews can help find the right contractor. However, industry certifications are proof they meet established requirements and have demonstrated the technical knowledge needed to provide safe and effective air conditioning repair, installation, and maintenance.
Some HVAC certifications are required and others are available to demonstrate proficiency in certain areas. It helps to know these as you research qualified air conditioning repair companies. The most common credentials to look for include:
Certifications for AC Repair Companies
State HVAC Certification
In Michigan, HVAC technicians aren't required to be licensed at the state level, except for those who work with boiler systems. They must obtain classifications for boiler installer and boiler repair. There are several categories under each classification; each one permits a technician to work with a specific type of system or perform a certain type of repair.
An HVAC contractor can be classified for ductwork, refrigeration, hydronic heating and cooling and process piping, or limited or unlimited refrigeration and air conditioning services, among others. Available licenses include HVAC apprenticeship, HVAC contractor/mechanical contractor, and specialty licenses, which are issued through the Michigan Department of Licensing and Regulatory Affairs. Some cities also have licensing requirements for specific systems.
You can check with The Bureau of Construction Codes, Mechanical Division for more information on licensing requirements and classifications in Michigan.
NATE Certification
A testing and certification organization for HVAC technicians, North American Technician Excellence (NATE) is recognized throughout the industry. Obtaining NATE certification requires passing a test of general HVAC knowledge. Technicians must demonstrate a range of technical skills and practical abilities. Not only do they need to pass the general exam. They must also pass at least one other specialized test to gain certification in areas such as:
Air conditioning

Gas or oil heating

Air distribution

HVAC system efficiency

Air-to-air heat pumps

Ground-source heat pumps
Environmental Protection Agency (EPA) 608 Certification
A technician must hold the EPA's Section 608 Technician Certification to legally buy, use, and handle HVAC system refrigerants, such as R-22 or R-410A. It's a requirement of the Clean Air Act because handling refrigerants can release vapors into the air. Air-conditioning refrigerants are considered greenhouse gases, which have a warming effect on the environment. They can also be harmful to humans.
Learn more about the requirements of Section 608 Technician Certification, which includes four types of certification. These include:
Type I: For servicing small appliances

Type II: For servicing/disposing of high- or very high-pressure appliances

Type III: For servicing/disposing of low-pressure appliances

Universal: For servicing all types of equipment
HVAC Quality Installation Standard
One of the industry's most recognized technical/professional organizations, Air Conditioning Contractors of America (ACCA) supports thousands of companies and tens of thousands of professionals. It administers the HVAC Quality Installation (QI) standard in residential HVAC design or light commercial HVAC design. A QI certificate recipient must demonstrate their ability to design an HVAC system plus proficiency in duct design, performing load calculations, and using HVAC-specific software.
HVAC Excellence Certification
HVAC Excellence is a nationally-recognized certification group. Technicians must pass an exam to obtain one of two certification levels. When certified at the professional level (requires two years of industry experience) or master specialist level (requires three years of experience), an HVAC technician can work in any state, although it doesn't replace state certification where it's required. Obtaining HVAC Excellence Certification is helpful if a technician moves to a state where they're unsure of the required qualifications. It can also look favorable to a potential employer.
Learn more about HVAC Excellence certification.
Call Hoover: One of Southeast Michigan's Leading Air Conditioning Repair Companies
At Hoover Heating & Cooling, our technicians are fully licensed and trained to provide all types of air conditioning repair. They use the latest tools, equipment, and techniques to address problems of any size or scope. Whether your system has a damaged fan motor, refrigerant leak, or frozen evaporator coil, or blows warm air, we'll restore its safety, function, and efficiency. For high-quality AC repair service in Southeast Michigan, call (586) 619-8752 today.