Skip to Content
Air Conditioning Problems & DIY Solutions in Clinton Township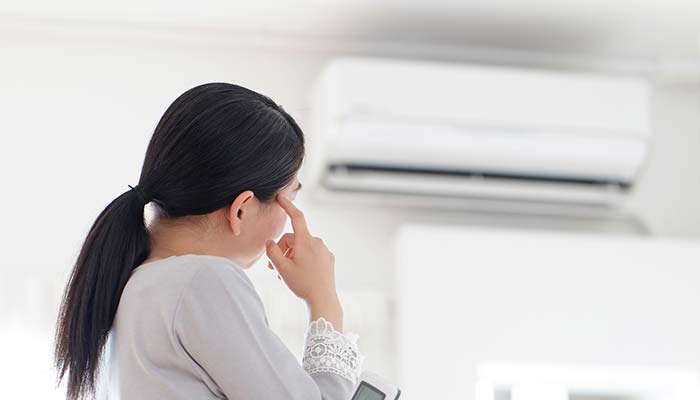 Air conditioning problems happen to the best of us. In your time of need, Hoover Electrical, Plumbing, Heating & Cooling knows exactly what you need to do to fix your air conditioning at home. If you do need extra help after you try these DIY solutions, Hoover arrives on the scene quickly to solve your problems.
Common Air Conditioning Problems
Some issues are more common than others when it comes to air conditioning. These air conditioning problems occur when you least expect it, so always be prepared with the proper knowledge under your belt.
Low refrigerant. Air conditioners use refrigerant to remove heat and humidity from your space. When refrigerant is low, your air conditioner pumps out hot air.
Dirty filter. Air conditioning filters do exactly as they say – filter! A dirty filter circulates dust, small debris, and even mold through your home or business. If really dirty, it causes your HVAC unit to overheat and shut down early, before the house is cool enough.
Faulty thermostat. Your thermostat controls the temperature throughout your home or business. If it gets dirty, unlevel, or it's in direct sunlight, it triggers air conditioning problems.
Drainage. Next, your drain pan needs to be emptied frequently to work as it should. Debris, dust, and lint in your drain pan cause water leaks, which interferes with the quality of your air conditioner.
Dirty condenser coils. Like with filters, condenser coils need to remain clean to work properly. Dirt build-up on condenser coils helps circulate dirty air into your home or business.
DIY Solutions
Luckily, all these air conditioning problems have easy fixes. Perform the following actions to improve the quality of your air conditioner when it starts to act up.
Clean. First, a good check up on condenser coils, thermostats, and filters goes a long way. All of these elements must be thoroughly cleaned to ensure the functionality of your air conditioner. Use water on the condenser coils – a hose works great – and a clean dust rag for your thermostat. The filter simply needs a quick change to provide you with high IAQ (Indoor Air Quality)!
Refill refrigerant. Here's another easy fix. Refill your refrigerant if you notice your air conditioner blow out hot air. If you just filled it and still experience poor air quality, you probably have a leak. For leaks, call a professional at Hoover. We know how to fix refrigerant leaks quickly so you don't miss out on quality air conditioning.
Dump drain pan. To fix air conditioning problems related to drainage, simply empty your drain pan! Dump out the water and out goes all that nasty dirt, dust, and debris.
Take a closer look at your thermostat. If you cleaned your thermostat, but still have air conditioning problems, take a look at the placement of your thermostat. Does sunlight hit it directly? Direct sunlight messes with the sensors on your thermostat, which changes your indoor air temperature. Try a small shield over your thermostat if it gets too much sun or moves it to a better location!
Contact Us to Solve Your Air Conditioning Problems
We hope these DIY solutions to your air conditioning problems work for you. If you need extra help after you've taken these steps, Hoover Electrical, Plumbing, Heating & Cooling is here to fix all your air conditioning problems!
Give us a call for a free estimate and to schedule your service. Need a new air conditioner installation? We offer finance options to make this easy. We're ready to come down whenever you're ready to have us. Our team assists customers throughout the Clinton Township area.